Disclosure: This post may contain affiliate links. If you click on a link I may make a small commission at no extra cost to you. You can read the full disclosure here.
Last Updated on October 23, 2022 by Chris Panteli
Airbnb Lockbox & Smart Locks
Having traditional locks on your Airbnb rental is antiquated, and something more and more hosts are doing away with.
And it's clear why: for each booking, you have to hang around to hand over the key, waste time with late arrivals, and go through the pain of changing the locks if keys go astray.
If you're planning on making your Airbnb successful long-term, this isn't the right solution.
In this guide, we'll show you the benefits of switching out your outdated lock, how they integrate with Airbnb and the best Airbnb smart locks on the market.
Airbnb Smart Locks: What are they?
Smart locks provide digital, keyless entry for rentals. They allow guests to check-in to the property, day or night, and don't require a physical key.
Most smart locks work by issuing a keycode that is changed after each stay. The key code can also be changed remotely so there's no reason for you to visit the property to check that the keys have been left.
One of the great things about smart locks is that they can integrate into your PMS system and offer connectivity to automated emails, digital guidebooks, and even the rental's heating, and lighting systems – making your rental a smart home.
This gives you an easy, secure way to manage your property and guest check-in at a glance.
Are smart locks worth it?
Yes, installing a smart lock in your Airbnb rental is definitely worth it! Not only does it make your property much safer, but it also gives your guests a much quicker check-in experience, meaning better reviews and repeat bookings. If you haven't got a smart lock installed; you're missing out!
Why Use Smart Locks for Your Airbnb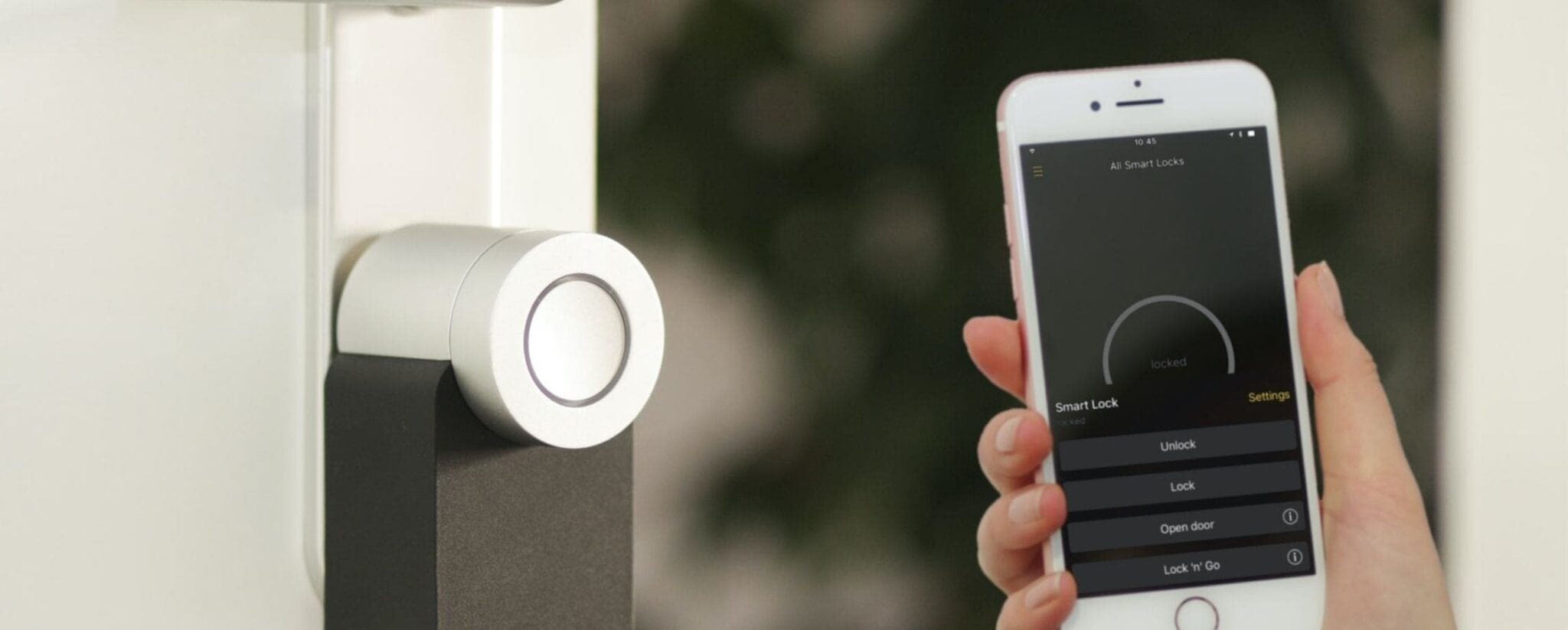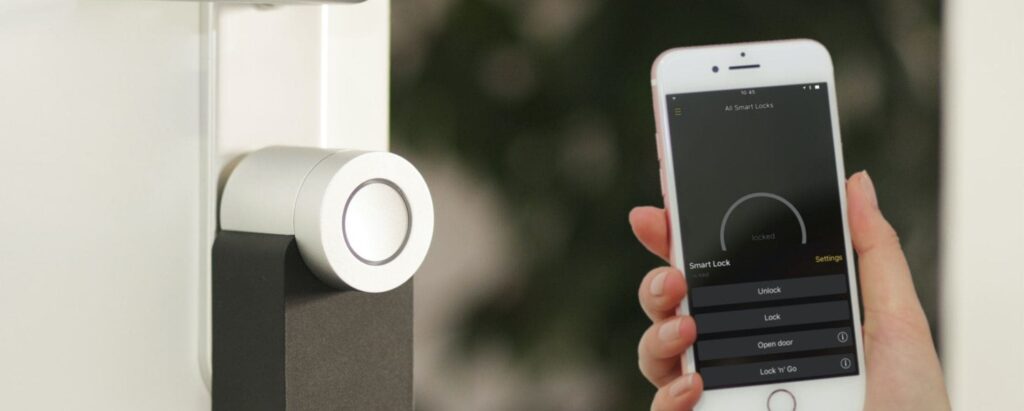 If you currently have a traditional lock and key system for your Airbnb property, there are some key advantages to upgrading to a smart lock.
Cater For Late Check-Ins
Whether there's a storm, bad traffic, or a delayed flight, guests often show up late for their check-in. If you have a physical key to hand over, you might be waiting around for hours and when it's getting late, that's the last thing you want.
A smart lock will let your guests enter the property at any time which is perfect for delays. You'll get a notification that they've arrived so you can still monitor the check-in remotely day or night.
Save Time And Hassle
Coordinating key drop-offs with guests is time-consuming and a hassle, especially if you don't live near your rental. But there's no need to travel to your rental every time a guest arrives if you have a smart lock installed.
Keep Your Rental Safe
Although it's rare, you could get a guest who makes a copy of your key and comes back later to try and stay for free or even steal your property.
When you have a unique code that changes for each guest, you remove that risk completely. Codes will automatically expire after check-out, so there's no way someone can get back into your rental without you knowing about it.
Avoid Lost Keys
Having a lost key fee does act as a deterrent, but that doesn't mean keys don't get lost. It's a hassle traveling to the property to give guests your spare and then you'll need to get a new set made ready for your next guests.
With a smart lock, you'll never need to worry about a lost key again. Guests will be sent the code through their mobile so they always have it, and if they do forget it, all they need to do is give you a quick call and they're back in the property.
Faster Check-in
Most guests don't want to meet the Airbnb host when they check in to their holiday rental, especially if they've been traveling and it's late.
You don't have to worry about meeting guests at check-in and having that awkward, drawn-out conversation welcoming them to your property. They will be able to check-in much faster and head to bed straight away if it's late.
Features to Look For in a Smart Lock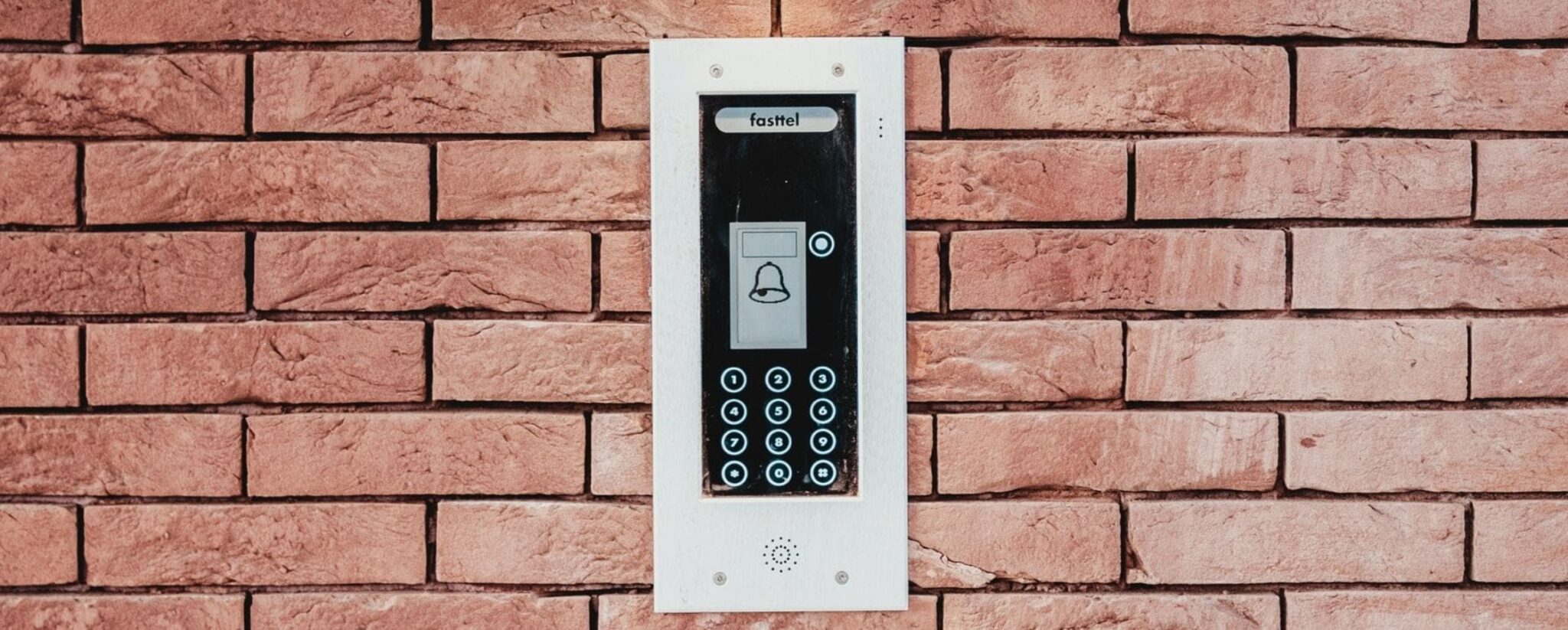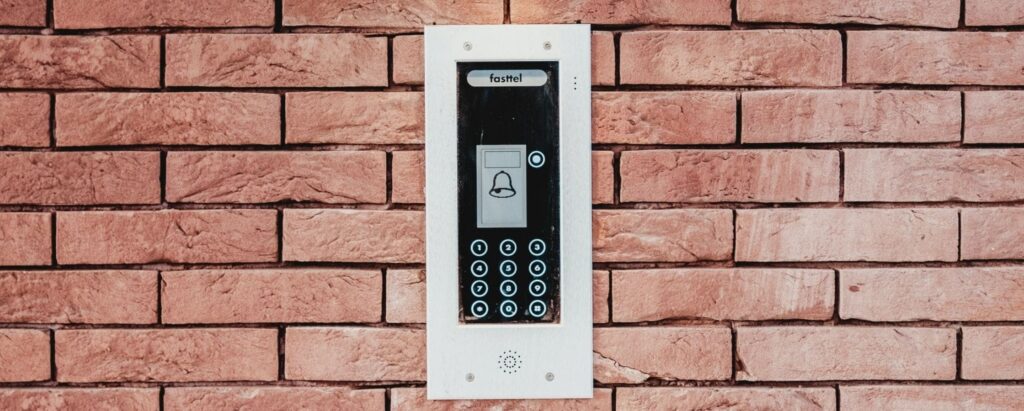 If you haven't yet installed a smart lock technology, it can feel a little overwhelming with so many on the market. But in general, there are only four main criteria that you should look for.
Level Of Security
The keyless door lock you choose should reset the access code after each guest stays for the best level of security. When everyone has a different access code, you'll easily be able to tell who has entered the property and when which is a must for keeping the property safe.
Some locks even allow you to time different codes, so housekeepers or maintenance staff can enter the house at set times.
You should also be able to change the codes remotely so there's no need for you to physically visit the property each time.
Ease Of Use
Having a lock that is easy to use is important for Airbnb guest satisfaction. If it's complicated to figure out and they have to ring you to ask how to work the door lock, you're going to end up with bad reviews.
Many smart locks can only be accessed using a smartphone. Although this will work for the majority of your guests, think about what happens if someone arrives with a dead phone.
Keycode-based locks are best. You'll be able to send the unique code just before the check-in time and then deactivate it after check-out. That way, even if the guest's phone dies, they still know the code.
Remote Access
Your smart door lock needs remote access to make it worthwhile for you. The whole point of smart locks is to stop meeting guests at the door, but if you can't access the lock remotely, you'll still be visiting your rental to update it and make changes.
Integration With Your Property Management System (Pms)
The more guests you have, the more work it will take to manage your bookings and calendar. Most Airbnb hosts use a PMS system to keep better track of their bookings.
If you use any type of property management system, make sure the smart lock you choose can integrate with it to make issuing keycodes much more streamlined.
The Do's and Don'ts of Providing Self-Check-in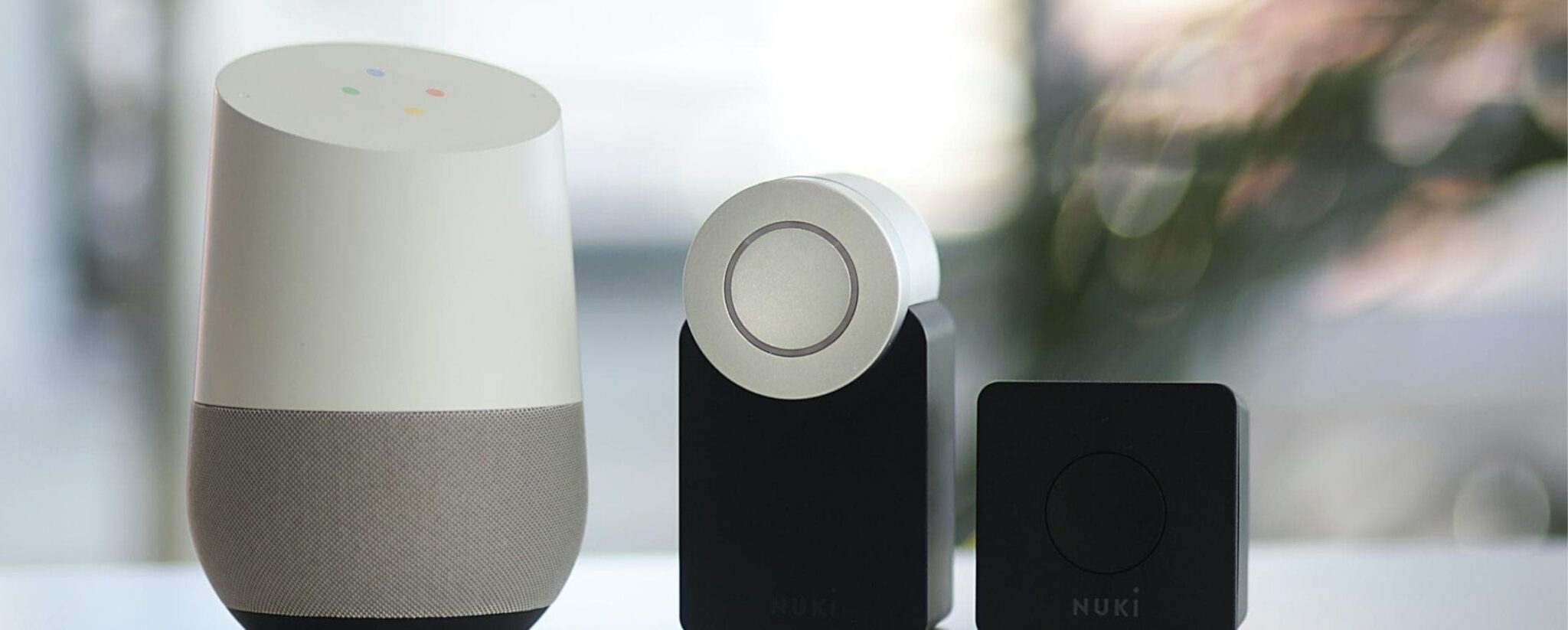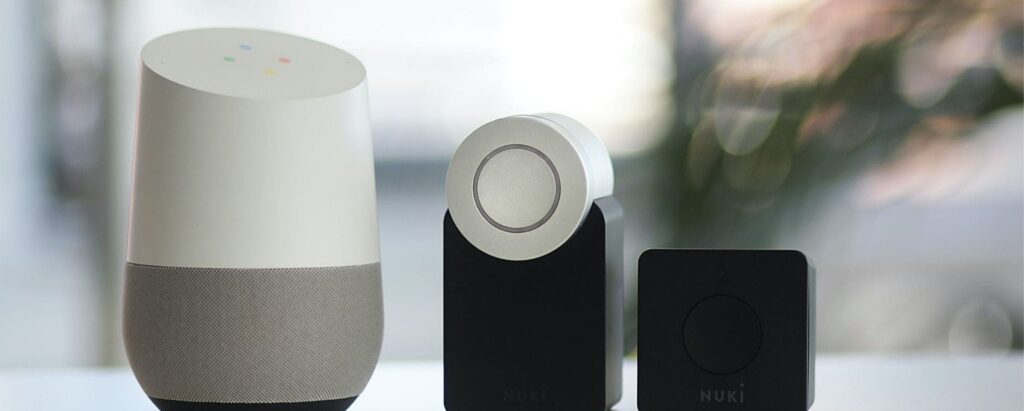 These days, most Airbnb guests will expect self-check-in when they arrive at your rental. If you do provide self-check-in, here are some dos and don'ts to keep in mind.
✅ Do Offer A Fast, Easy Check-In
You have three options when it comes to self-check-in:
Lockboxes
Keypads
Smart locks
The best key lockbox for Airbnbs is a small box attached to the wall near the door that you store a key in. When guests check-in, they get the code to the lockbox and then use the key for their stay. At check-out, they put the key back in the lockbox.
Keypads are keyless locks that require a code in order to unlock the door. You'll send the code to your guests before check-in and then have to go to the house to manually change the code after each stay.
Smart locks are digital keypads that eliminate the need for keys and can be changed remotely. This is why it's our recommended option for easy self-check-in.
❌ Don't Forget To Set Up Check-In Instructions
Even if your smart door lock or keypad is simple to use, make sure to include instructions on how to check-in directly in the Airbnb app.
You should also send instructions on the check-in process to your guests when they book a stay, along with your house rules so they know what to expect.
✅ Do Communicate With Guests
We always suggest overcommunicating with guests before check-in so they know exactly what to expect. Send an initial welcome message letting them know when you'll send the house keycode.
Then closer to time, reach out again with an update on when they can check-in and the process.
Finally, send a check-in message with your instructions and how to self-check-in.
Guests will appreciate the communication and it means you'll get less confused calls when they can't figure out how to work the door lock.
You can easily schedule these messages and use templates so you're not spending hours a week messaging guests.
✅ Do Provide A Secure Self-Check-In Process
It's up to you to make sure self-check-in is safe for your guests. Smart locks with updated codes mean only your current guests can enter the premises. But you should also think about installing a camera at the front of your property so you can keep track of who tries to get in and out of the property.
A camera is also an important security tool to monitor the number of guests entering your property. If your rental isn't pet-friendly but someone brings a dog – your security footage will be evidence.
✅ Do Add Self-Check-In To Your Listing
You can actually add "self-check-in" as an amenity on your Airbnb listing. Many guests will only stay in places that offer this, so it will help you show up in more searches if you have it officially listed on your page.
Direct Airbnb Booking Integration
Most smart locks can be directly integrated with Airbnb booking to make the check-in process automated. Here's how to do it.
Step 1: Connect your app and Airbnb accounts
In your smart lock app, check if it has an Airbnb integration
Select Connect to Airbnb
Enter your Airbnb account information
As a Host, you will see each of your Airbnb listings
Step 2: Pair your locks to your Airbnb listing
You'll be able to choose the listing of the property that has the smart lock installed to pair with. Here, you can select the lock you want to make available to guests.
Step 3: Select the access type
Some locks use app access whereas others have keypad access. Either way, guests will be sent a code that becomes valid at the date and time of their agreed-upon check-in. The code will then be disabled at the time of check-out.
Self-Managed Smart Lock Systems
There are several self-managed smart lock systems that are perfect for Airbnb hosts in particular. Here are the best smart locks for Airbnbs to help you choose the right one for your property.
Yale Assure Lock Series
Yale is one of the global leaders in locks, so you know this is a great company for getting the best smart lock. The Assure series has a range of smart locks, including keycode options, in different colors and sizes.
The lock creates unique entry codes, allowing permanent, scheduled, or temporary access – all controlled remotely.
August Lock Airbnb Integration
The August Smart Lock has direct integration with the Airbnb platform, so is a popular choice for hosts.
The August Smart Lock Pro has remote access, unique programmable keycodes, and is made for high-traffic rentals.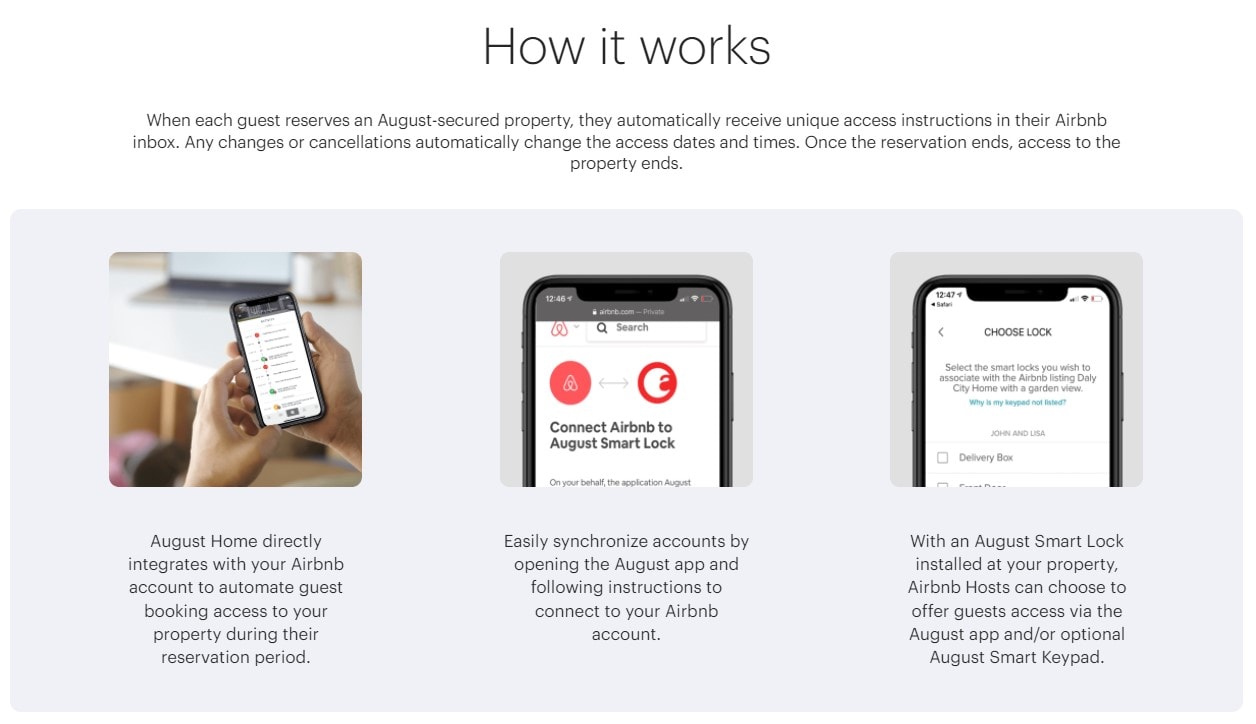 Nuki Smart Lock
The Nuki smart lock is a discreet smart lock that uses the same encryption technology used in online banking, so you know it's a safe option.
Again, it can be programmed remotely with unique access codes, making it a great option for Airbnbs.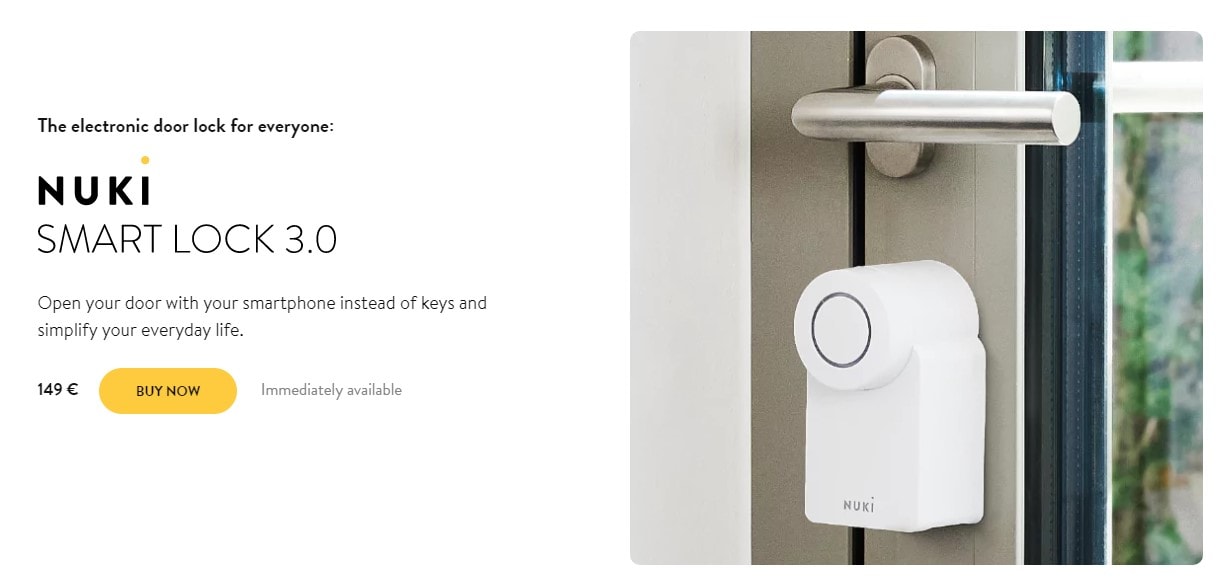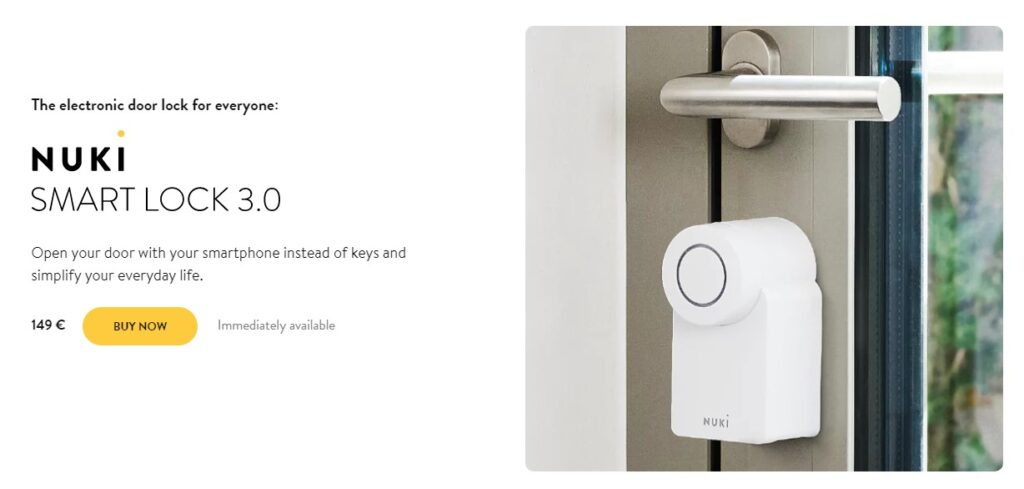 Igloohome Smart Locks
Igloohome smart locks are a range of high-end smart locks with added deadbolts. They have remote access and unique codes and work without WiFi (great if you have a remote Airbnb or sketchy WiFi).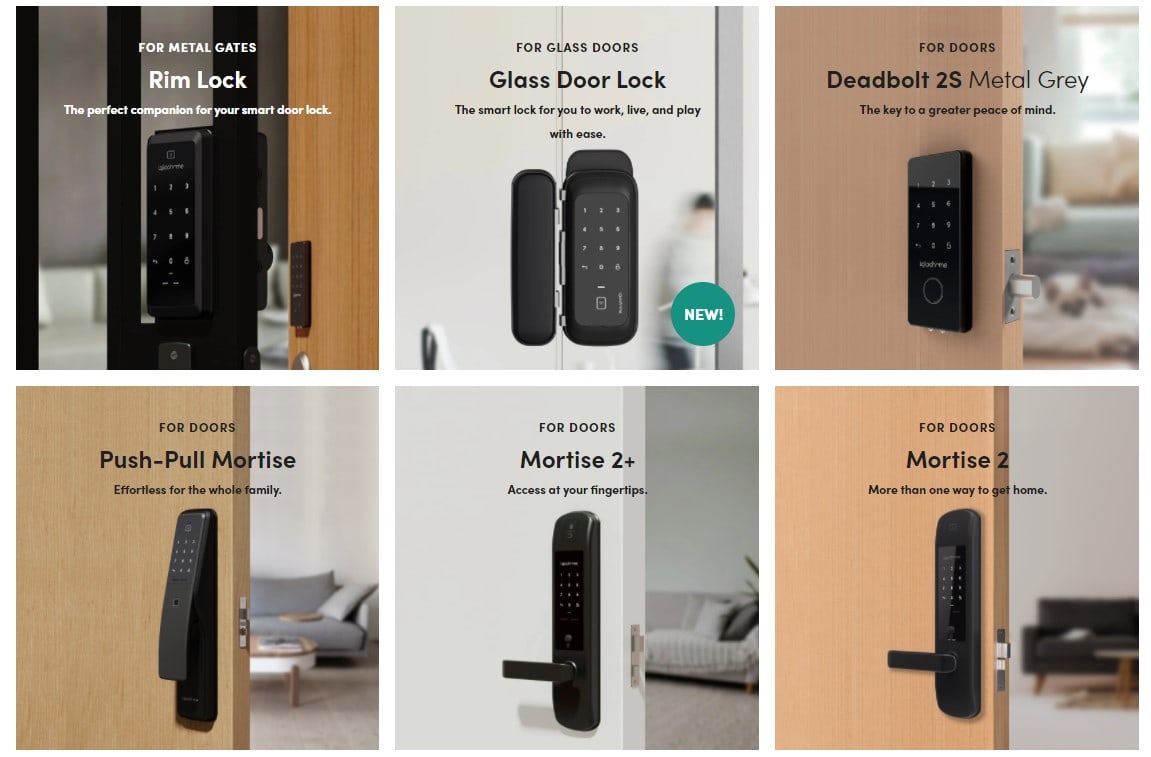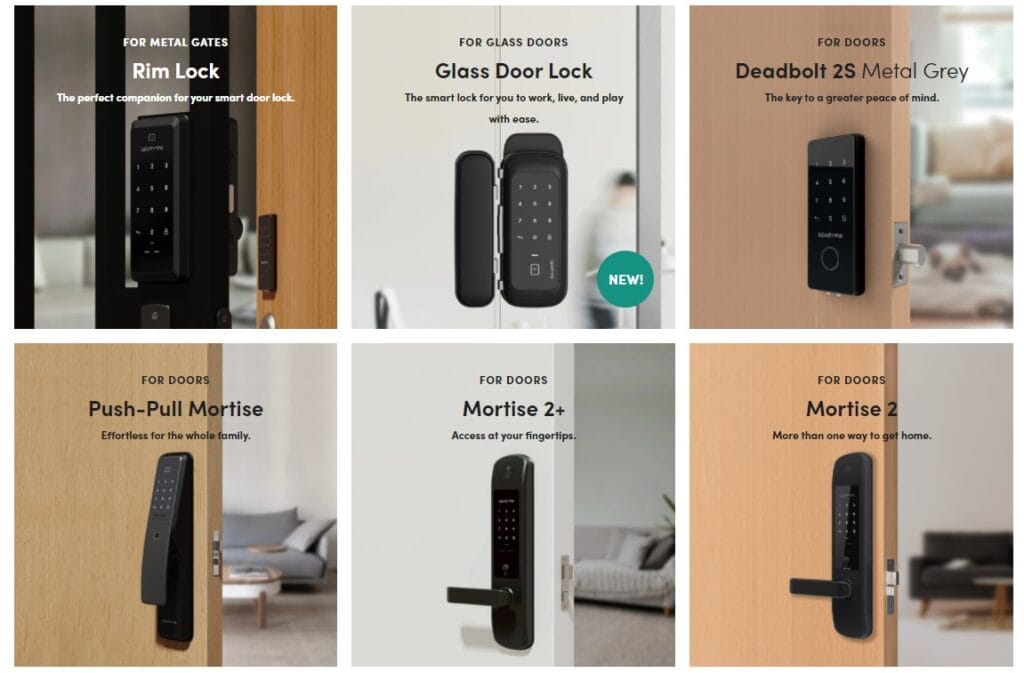 Selecting the Right Smart Lock for Your Vacation Rental
It's important to find the best smart lock that works for your rental and budget. So, no matter what brand you go for, here is a quick checklist of everything it needs to give you the best functionality:
Short-term, scheduled, and permanent access to your property. 
Remote accessibility and programming.
Unique access codes are generated for each booking. 
Remotely unlock and lock your door. 
View who accessed your property (with notifications when an Airbnb guest unlocks or locks your door).
Monitor how frequently guests lock/unlock the door. 
Assign cleaners and service people codes that can be used at specific times (don't forget our handy cleaning checklist for a better cleaning schedule). 
Adjustable timeframes for the codes (for example, if a guest asks to extend their stay).
Airbnb integration to manage all your bookings automatically.
Will You Install a Smart Lock?
Getting the best smart lock installed in your Airbnb rental really is a no-brainer. Although you'll have to invest in the lock upfront, it will save you so much time and effort in the long run.
Not to mention it provides a better experience for your guests which means better reviews and more bookings.
If you're looking for simple yet effective ways to upgrade your Airbnb rental, don't forget to check out our review of Noiseaware to find out if you should be monitoring the noise levels in your rental.
Airbnb Lockbox & Smart Locks